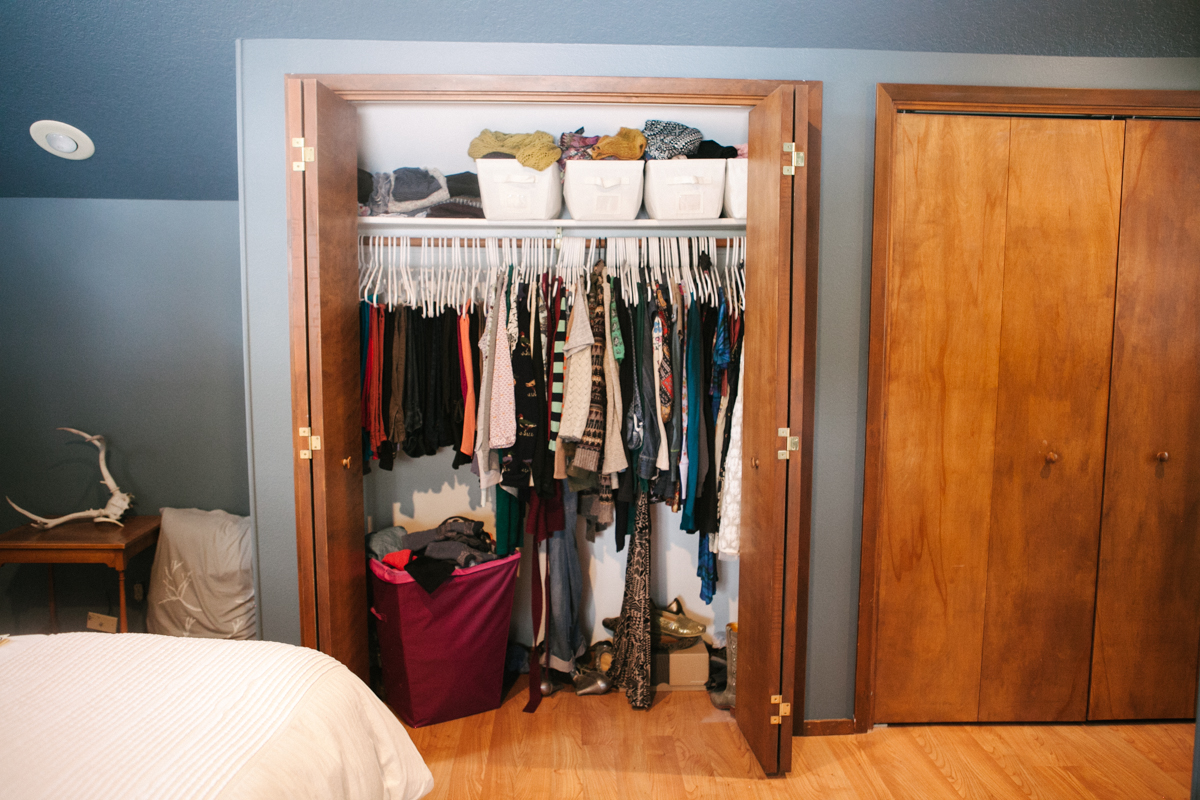 SIMPLIFY
- this is one of
my words for 2014
. As we started this New Year….one of the spaces in my home that I really wanted to tackle was my closet. It had become a place that wasn't inspiring and a corner in my bedroom that I didn't look forward to looking in to. Ever! The state of my closet is partly to blame for my consistent go-to outfit of a grey V-neck tshirt and jeans. This can be such a cute look [yes, I know], but as it became an everyday uniform…..it got boring. Fast. Same for my shoe choices! My shoes were always in our laundry or mud room by the front door and never part of my closet experience. I began to only wear the same 2-3 shoes…..leaving out some of my most favorites!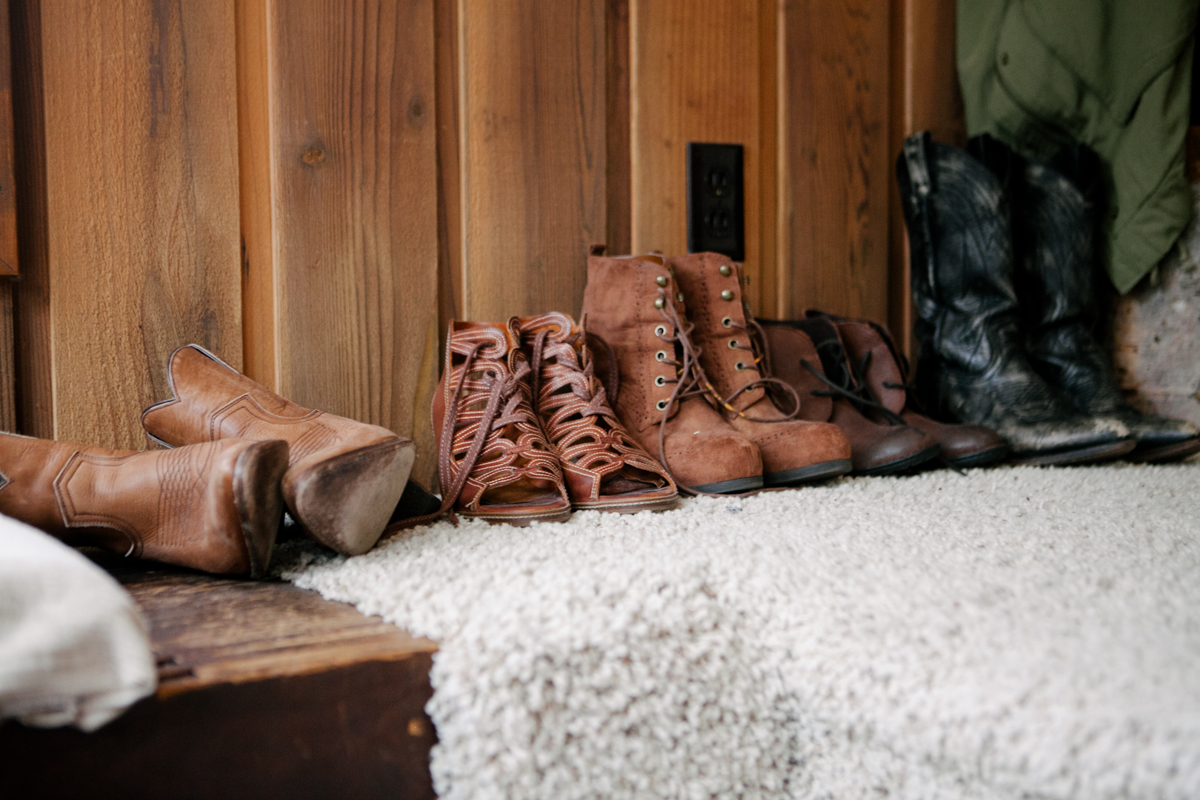 I believe there's a cardinal rule that anytime you clean out your closet…..a girlfriend
must
be present. Seriously, not only is the task more fun that way, but it's just smart to have someone in the room as you make important fashion decisions! The friend that came to my mind immediately for this task is Melissa of
Style Me Montana
, who recently added closet organization to her list of
style services
. I knew she was the perfect friend to help me de-clutter and re-style my closet.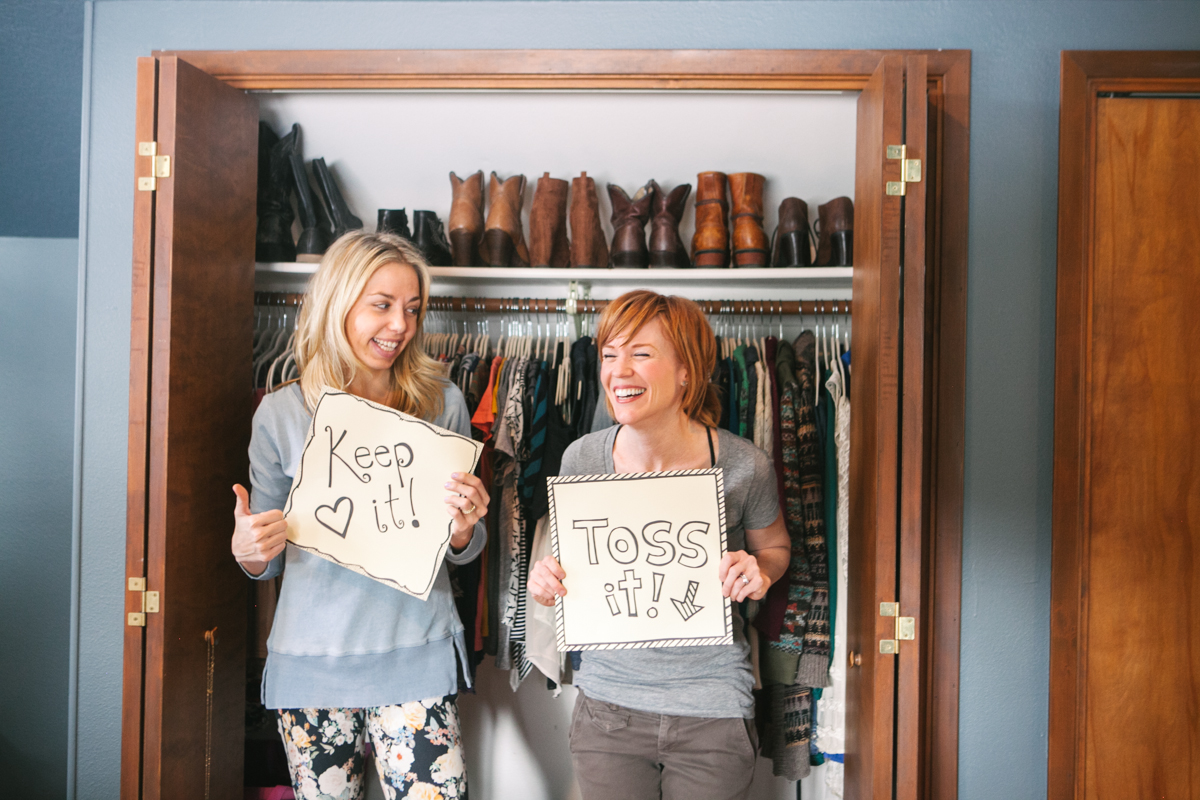 First things first….Melissa suggested that I get rid of the bulky white hangers and swap them out with sleek velvet hangers. You can find these at TJMaxx. I opted for a neutral color so it wouldn't compete with my wardrobe.

Melissa was so great to work with- she was kind and patient as we went through EVERY SINGLE piece of clothing that I owned. She definitely shared her option on things, but in the end- it was my choice if I was going to keep it or not. Since I was ready for a closet purge- this part wasn't hard for us at all! We agreed on pretty much everything. Whew! Pack it up! Get it out! [p.s never mind the fact that I need a bedskirt on my bed....ive been on the hunt for one that I actually love!]




Due to the weather that we have here in Montana- I finally embraced the "winter closet" and the "spring closet" -this pretty much sums up the climate here. Although I don't have much heavy winter wear….one thing that helped in this process is having winter bins to store the bulkier accessories that I only need a few months out of the year. And those bins are now stored in the crawl space behind my closet, until I need them again.

Right off the bat I knew I wanted to update the storage bins that I had been using for the past 4 years. Rather than getting rid of the existing bins- they became my winter bins, which are stored away. Gotta move money around so you can purchase the import things! My vision for the new storage bins was to combine functionality and character- and out with the set of matching bins. So, off we went to a few my favorite vintage shops in town…we had such a fun day of it! Antique shops are filled to the brim with treasures good and bad…..so you have to look for the potentials up high on shelves and low on chairs.


Here's a peak inside my closet [before and after], the process and our fun days together! Also, don't miss our CLOSET RE-STYLE TIPS at the end of the post! // The Process :: Get it all out. Start over! Make two piles. Hang what made the cut on new hangers. Bring up all shoes that are laying around the house- to be displayed in the closet!



Install the new closet shelf on cinder blocks [super cheap at Home Depot] and start organizing accessories and shoes in the new bins.






Remember that huge dresser earlier in the post? Its gone….and now I have an ever small space for clothes! Good thing Im getting rid of things…totally worth it for this vintage beauty.

AFTER // Everything I own can be find in my closet. Other than pajamas, bathing suits, work out clothes ect….which are in dresser drawers, everything else is visible and neatly organized in front of my eyes. I love waking up to a clean closet every morning. This truly starts off my day on such a better foot. Im so thrilled with how things turned out! Thanks so much, Melissa!


///// Re-Style Closet Tips::
*Put things right where you can see them! If you don't see it, you most likely wont wear it.  Create a pretty / happy visual experience in your closet that leaves you wanting to leave the doors open!
*Hang, hang, hang! As many things as possible (even basic tanks / tees)! It will keep them far more organized then any  dresser drawer ever will AND you will be able to have a visual of them which will greatly increase the chance of wearing that item!
*The only exception to this rule is sweaters. Save a shelf or drawer to keep the shape of your lovely cozy sweaters intact!
*Think of the top shelf in your closet as a DISPLAY rather then storage. It will turn out much prettier! A favorite use for the top shelf of a closet is boots and heels. Line them up and create a boutique like shoe shelf that's fun to look at.
*Add some SPARKLE or COLOR! Often, the smallest color update is just what you need to make a big impact! *Turn your closet into a space that makes you SMILE! Just think if you started your day with an organized & STYLED closet! *Make it you. Our closets truly are an extension of ourselves.
** Kelli's closet turned out to be totally her.  Its exactly what we were going for. It reflects her spunky personality, awesome western-boho style and her adventurous spirt in life!