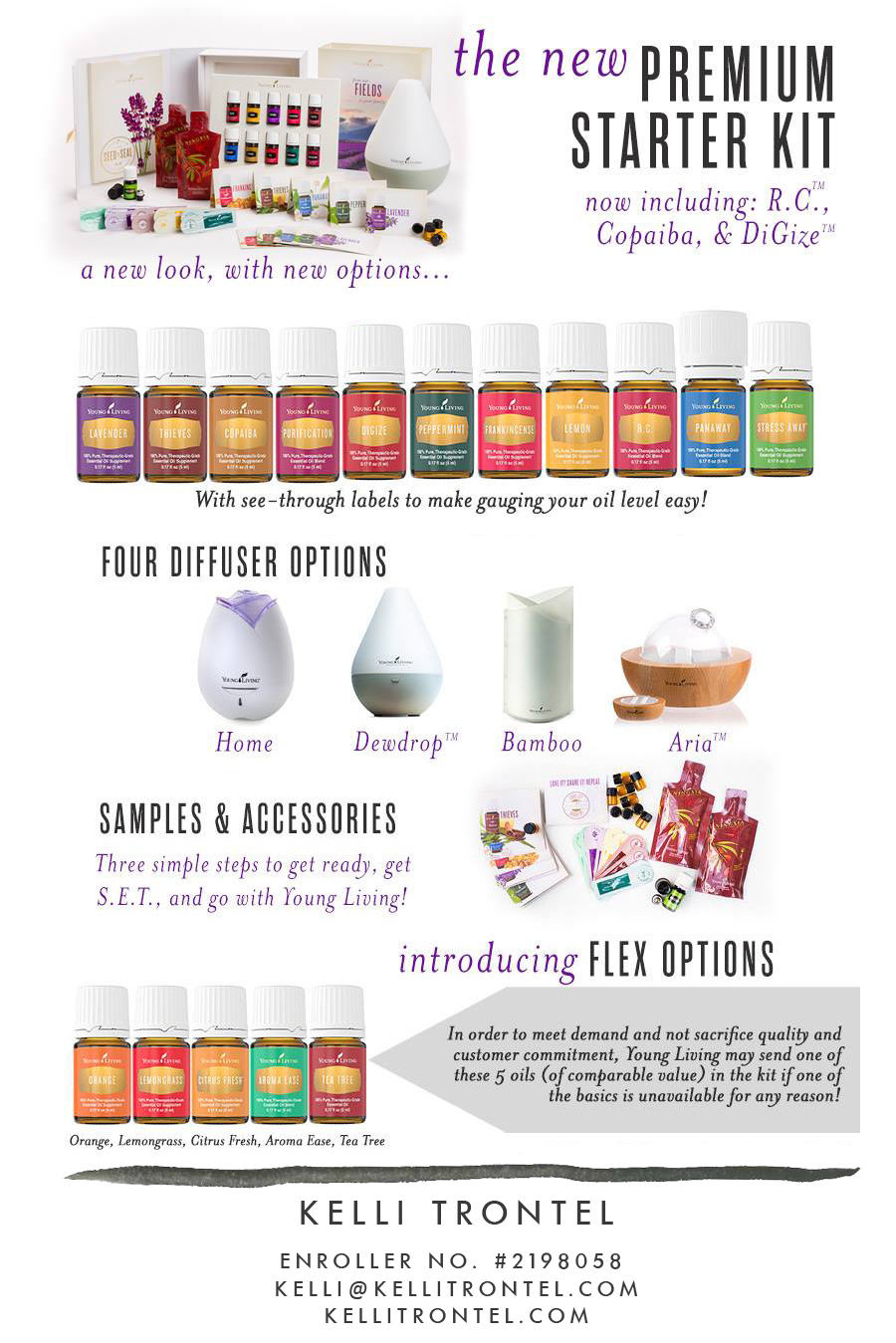 The NEW Premium Starter Kit is part of the Young Living Everyday Oils Collection. This wonderful assortment of oils includes 11 Essential Oils + Diffuser + Samples & Accessories that you will no doubt, reach for every-single-day.
You will have access to our private Young Living Essential Families Facebook community to ask questions/share testimonials. I offer a phone consultation to get you started on an oil blend, as well as some free resource materials. Any questions – message me! The premium starter kit is priced at $160 – an incredible deal [retails over $300].
Note: There is no renewal fee; simply purchase a minimum of $50 of product per year and your account stays active and you continue to receive 24% off retail prices.
Steps To PURCHASE A Young Living Starter Kit:
CLICK LINK TO PURCHASE: http://yl.pe/s34
– STEP #1. Be sure "Member" is selected & the #2198058 is in Sponsor AND Enroller ID fields.
– STEP #2. Complete the Member / Sign-In Information. Regarding Tax Information, because Young Living is a network marketing company, they must have this on file in case you EVER sell anything. If you don't sell anything, know your number will never come out of it's file. YL is a respectable 20 year company – rest assure they won't be doing anything harmful. 🙂
– STEP #3. The Premium Starter Kit [$160] should be preselected for you – that's the one you want!
At this time you can choose to sign up for Essential Rewards, if you'd like too. Your choice! It means you commit to ordering $50/month and in turn you will receive a reduced shipping rate. I enjoy it because it keeps me current on my oils, you start accruing points fast for FREE product & allows you to try new products.
– STEP #4. Complete Billing & Shipping Information, then continue.
– STEP #5. At this point, you can add more product to your order if you'd like or confirm order & you're done! You'll soon receive a personal email from me.
WELCOME TO THE FAMILY! 
You'll hear from me soon! – KELLI xoxo