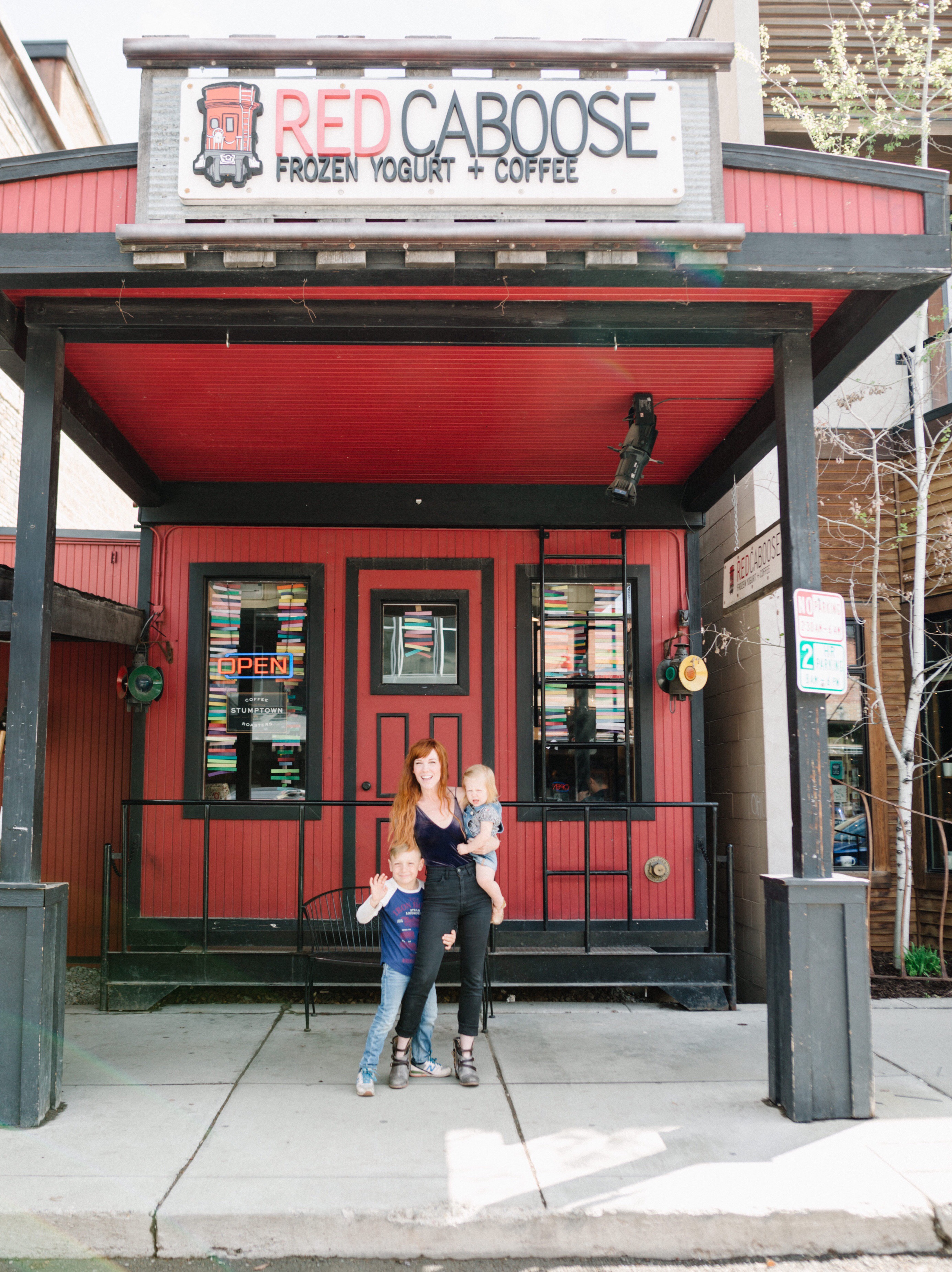 It's been said that the number 7 signifies a completion of some kind: a divine mandate has been fulfilled.
After 7 successful years of business, Red Caboose will be closing the doors this Sunday, May 20th.
The building/business was sold in 2016 so although I have known about this day for over a year, I still write this post with tears in my eyes as I have loved the Red Caboose as many of you have.
I'll be completely honest. I didn't want to move to Montana. I was living the dream [so I thought] in Nashville, Tennessee. I was singing/ writing/recording and learned much about photography from some of the best in the industry…..all the things that I've loved doing since I was little.
What changed my mind about Montana?
After my dad unexpectedly passed away, I was reminded how short our life is here on earth. I laid my career and dreams down…..& followed my husband's lead……to Whitefish.
I had no idea what my days would hold for me here, I actually believed that I'd be working a 9-5 office job in a basement with no windows. For real. That's what I initially envisioned would be waiting for me here.
Man, was I wrong. So wrong.
It didn't take long for me to see that there was an obvious void in our community. This town needed a family-friendly, late night spot where people could gather, talk about life, and recharge for a new day without taking up a table at a restaurant [I waited tables for years, and I know the way to making money is turning those tables!]
From day one, the vision for the Red Caboose was to provide a warm and inviting place that offered late night hours and a change of pace. Even when our last customer came in at 8pm…..we would still close at 10pm. We never closed early. Eventually people caught on, trusted us and began to share their evenings with us, and it was so amazing to witness this happening.
The 5-year-olds are now turning 12! What an honor it has been to see the kids in our community grow up. We've been part of many birthday parties, anniversaries, date nights, family vacations, proms…..and it's been a great privilege knowing that we've provided the space and electrical outlets for you to build your own careers and dreams!
I had no idea what to expect after I turned on the open sign on that grand opening day, other than I wasn't sure who would come in for frozen yogurt on that cold February day. I didn't know I'd fall in love so easily with Whitefish, our community and operating a cozy little coffee  + frozen yogurt shop. I can honestly say this adventure far exceeded my expectations in every way.
I've put my heart and soul into the Red Caboose and although this is an extremely bittersweet season for me, it's time to re-direct my focus on raising my own sweet babies and tending to other creative ideas that have been put aside over the course of the past few years, yet burning in my soul. I am at peace with this season and I look to my future with great anticipation.
Thank you for opening your heart to a Nashville transplant who laid some roots down on Central Ave in Whitefish…..who went against the grain and brought in Stumptown Coffee from Portland, OR.
In the beginning, many people questioned whether frozen yogurt would make it in Montana, where we see more snowflakes than sunshine. It was never just about the frozen yogurt and I wholeheartedly believe our regulars, the ones who caught on to the bigger picture would agree.
As my team of baristas have heard me say at some point in every single staff meeting……
"we are more than frozen yogurt & coffee."
The Red Caboose was a vehicle to bring people together. It was a beautiful thing to be part of. I am forever thankful to have been entrusted with such an assignment. Life is truly enriched by service and loving well. We all have hopes, dreams, pains & joys.
I'd love to see you, hug you and hear how the Caboose has been part of your life. Feel free to shoot me a message &/or swing by this weekend. The kids and I will be around, soaking in every last bit of our time left at the shop.
From the bottom of my heart, thank you.
Thank you for supporting our family and business. Thank you for your friendship. Thank you for doing life with us and loving us well.
As we navigate this season of change, please keep us all in your prayers. I truly believe the best of days are ahead of us……we're just taking one step at a time right now.
Continue to follow along on our family adventure…..the Red Caboose Instagram & Facebook pages have always been a place where we've shared our lives. We'll continue to do that! You can also follow my personal Instagram page as well…..for more day to day updates and future happenings.
Can't wait to share what's next……
XO,
KELLI