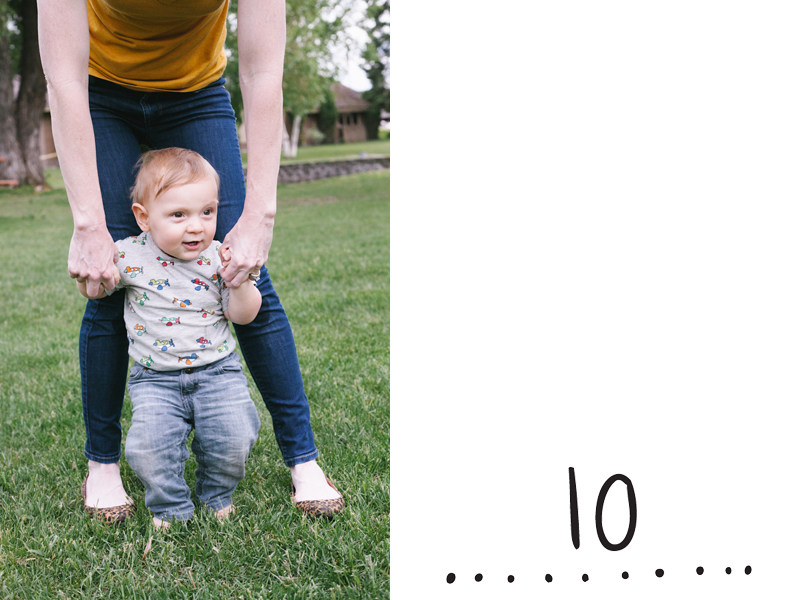 My baby is TEN MONTHS old!!! I'm posting this super late this month….so he's really just days away from being eleven months, which means we are just weeks away from someones 1st birthday! Oh my!! I can't even go there yet…..I'm soaking in these days.
We officially have a crawler…and a fast one at that! Ezra also loves to climb stairs. He can easily conquer the two steps at our shop, but he actually had no problem at all climbing the staircase in our house, which is steep! Reed was behind him the entire time, but our little guy never looked back…he was focused and determined….and made it to the top! Needless to say, we've got a gate up at the bottom of our stairs.
I've been spending less of my day at the shop these days….it's been tough to keep our little explorer contained for hours on end. He wants down- he wants to crawl- and I don't blame him. He's such a people person- the perfect little greeter each and every time someone walks through the door. We love this about him! This is what reminds me of my dad…he would talk with everyone and thats pretty much Ezras little spirit.
A few new adventures this month:
Your babble tones have expanded- and there's a lot of energy and passion when you talk!

You've been saying momma, dadda, baba…..but yesterday you said "Uh Oh" for the very first time! Sweetest sound.
Your little toes…..are growing! They are definitely longer…preparing for your first steps.
You are such a good eater [this is obvious from the photos and your whopping 26 pounds on the scale]- a few of your favorite things to eat these days are black beans & rice, avocado, sweet potatoes, peas and blueberries!
We had to take you to urgent care for the first time. So sad. You were sitting in your booster seat and momma took the tray off to wipe it down. We thought you were safe since daddy was sitting at the table with you, but you decided to lunge [forcefully] forward and your chair, with you attached to it, fell to the floor. You scraped your head, but we wanted to make sure everything was OK. The doctor checked you out….and told momma and daddy that this would be the first of many. Ugh!
Ezra, you are our joy. Having you in our life is such a blessing. You have taught us much about how we spend our days and time. Life is precious and quickly passing by. You slow us down…..you remind us that being in the moment and making real connections matter most. You are shaping us to be better parents….a better husband and wife…..better lovers of people. We want to show you what quality time looks like. We want you to know that you are loved and valued. You love us unconditionally and we are thankful for that. It's refreshing. Oh the love and wonder of a child……this is what Jesus was talking about.
Love, momma & daddy