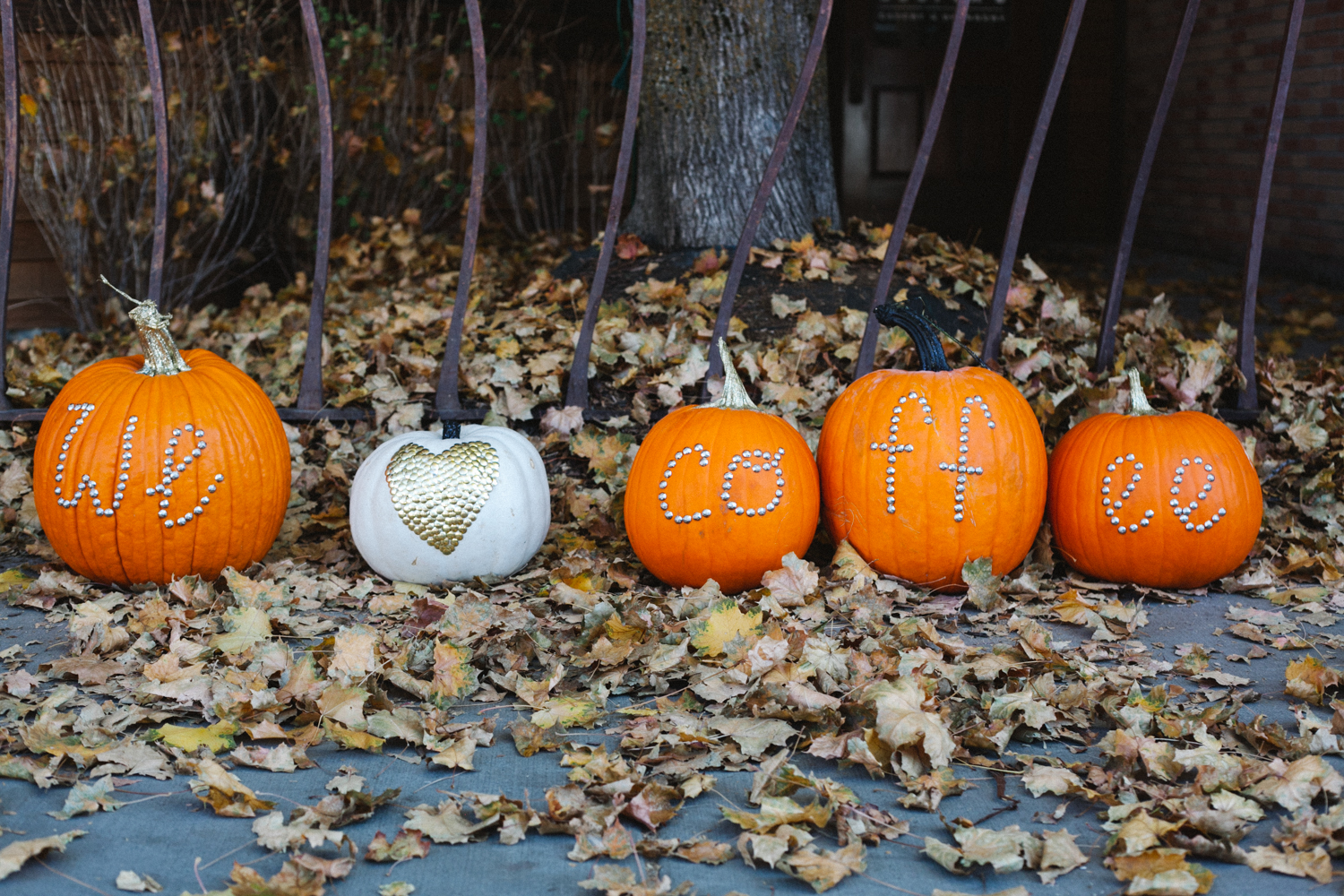 A few years ago, I posted about this Pumpkin Craft….and to this day it has been pinned over 600 times!  Needless to say, those thumbtack pumpkins back in 2011 were a huge hit……and continue to be so today.
Well, my dear friend Carrie and I collaborated on another seasonal theme for my coffee shop, Red Caboose. Im actually really behind on blogging our last few collaborations, but still plan to show you our work here real soon. It's always a pleasure to work alongside Carrie….dreaming up ideas and seeing it all come to fruition by way of late night installations. Always a good time. Always.
Keep It Simple. This seems to be my goal each season [and I really do believe that my employees say a little prayer for simplicity as well!]. Carrie and I both loved the concept of using upholstery tacks on pumpkins and thought of making a cute phrase for the fireplace mantle. We decided "WE LOVE COFFEE" would be perfect and oh so appropriate, being that we proudly serve Stumptown Coffee.
For this project we used pumpkins, upholstery tacks and thumbtacks (purchased at Home Depot), glitter and paint. Oh, and a hammer just in case some are little more tough to push in.
I free handed the lettering and Carrie just started with an outline of the heart and then filled it in….she used over 200 thumbtacks for the heart!
After the tacks were set in place we painted the stems with our favorite Martha Stewart paint and added glitter before it all dried. These glittery stems are my favorite!
Using upholstery tacks and thumbtacks has become one of my favorite ways to decorate pumpkins. The possibilities really are endless!
PUMPKINS PUMPKINS, EVERYWHERE!
My friends Darci & Arden of Beargrass Gardens surprised me with a beautiful illustrated, decoupaged and painted pumpkin, which I included below. It sits on our coffee bar. A sweet little glittery deer on a pumpkin? Yes, please!
We also used a pumpkin as a menu board, to display our Fall drinks.
Enjoy a peek inside our cafe…..and a few faces of our amazing baristas!
Happy Fall Y'all! xoxo