I love collaborating with artists and I love the opportunity to pour into other creatives as others have poured into me. Life is awesome that way…and having the opportunity of being on both sides of this scenario is so fulfilling.
Since moving to Montana- I've had the honor of working alongside some pretty amazing artists. Today, I am highlighting a local graphic designer….Tyler Thorney.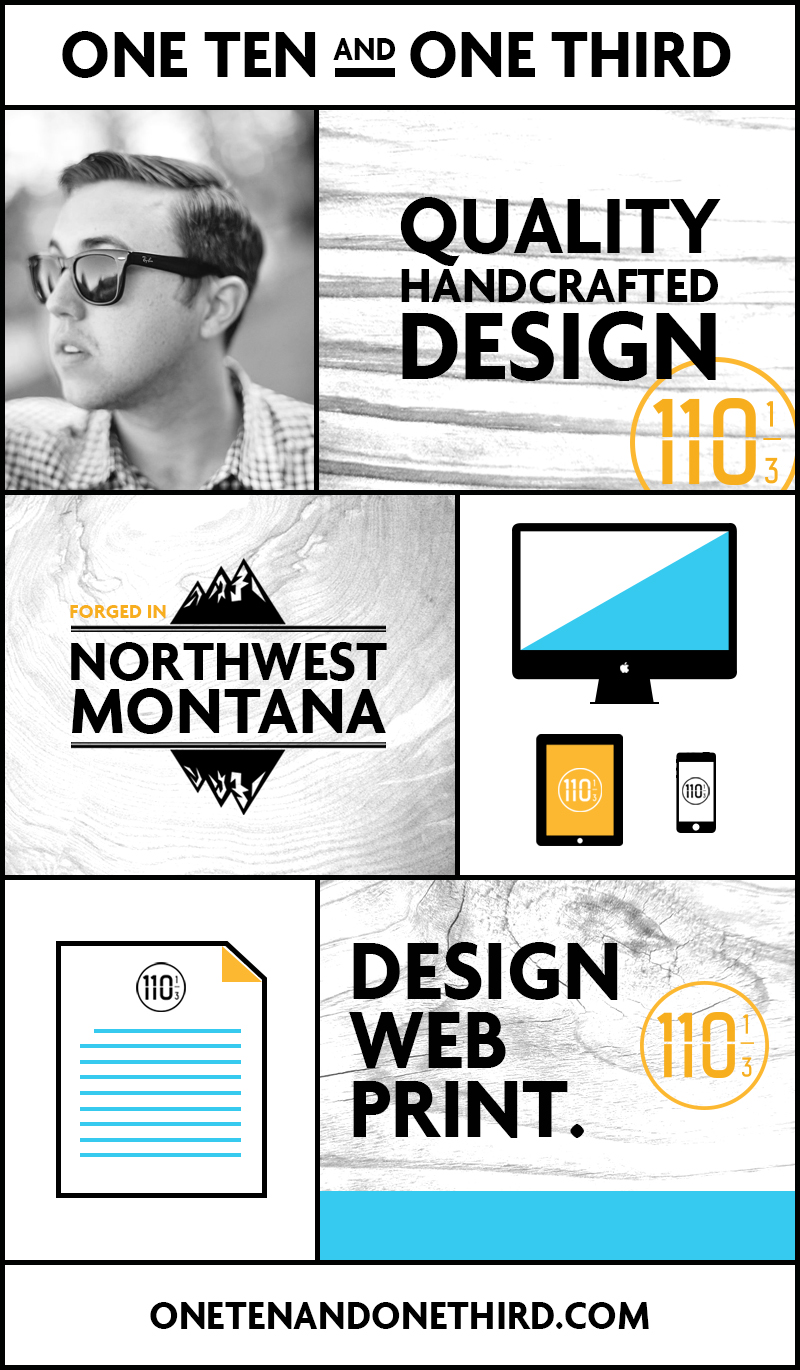 1. What is One Ten and One Third?
One Ten and One Third is my freelance graphic design studio. I work on both print and web content. This varies from business to weddings. The name came from my address, which is numbered 110. I live and operate out of the bottom level of a three-story house. But, it's not a typical three-story home; it's actually more of a duplex. So even though my address is technically 110, I have always jokingly called it One Ten and One Third.
2. Who really encouraged you to pursue your dream?
Surprisingly, a lot of people did. You wouldn't think many people would agree with quitting a stable job and starting a freelance studio. First of all there is my wife, Becky, who has been completely supportive every step of the way. I remember I would come home from the coffee shop I worked at and she would try to convince me to quit every night. She really wanted me to pursue graphic design and to be happy with my job. My parents, who live in California, have also been very encouraging. I expected them to lecture me about getting a "real job" with a big company or something after I graduated college, but instead they are just happy I am going after my dreams. And honestly, I've never been happier.
3. Define your style in 5 words
Hmmm. Tough question. I would say: Clean, Simple, Modern, Classy & Creative.
4. What inspires you?
Everything. I firmly believe that inspiration can come from anything and anywhere. Sometimes all I need to do when I get stumped is drive to get some coffee. By the time I get back to my computer, I'll have some fresh, new ideas. That inspiration could have come from the scenery on the drive, a billboard on the side of the road, a song I heard on the radio, something someone at the coffee shop said to me, or maybe even the taste of the coffee itself. That being said, I personally draw inspiration from a few specific areas. I love looking at graphic design blogs on the internet. Sometimes seeing what other people have worked on can spur inspiration. I also subscribe to a few magazines that inspire me. Tattoos are something that I love, having a few myself. I draw inspiration from that art as well. Videogames are a form of art that a lot of people wouldn't even really think about when considering design. But, they happen to be a hobby of mine and I'd be lying if I didn't say I draw some inspiration from those as well.
5. What is the ultimate message you want people to get from you and your work?
That I love what I do and I want my clients to be happy. There is that saying that If you love what you do you won't work a day in your life. I can honestly say that is completely true. I was up almost all night most of last week working on a magazine project some friends and I are starting together. I loved every freaking minute of it. It was hard work, but it's what I enjoy doing and creatively, it's so rewarding for me. I couldn't see myself doing anything else. That being said, I want my clients to love my work as much as I love creating it. Whether it's the look of their business, website, or wedding, they need to be happy with it.
6. Tell me a little about the personal project you are working on right now.
I'm working on a project called Creative Northwest Magazine. It's a quarterly publication that explores the creative culture of Northwest America. I'm the designer and editor of the magazine and I have been spending a lot of time on it lately. Luckily I am able to partner with some of the most talented photographers in the area. It really makes my job so much easier when I get to work with great photos. Creative Northwest is a photo driven magazine. It is specifically geared towards people like me who like to pick up a magazine and just want to look through it. There will be captions throughout as needed, but there will only be two main articles or interviews per issue. The rest of the spreads will be solely photo based. Calling it a magazine is also a bit misleading. I like to think of it as a hybrid magazine / coffee table book that gets sent to you four times a year. Our goal is to bring to light the creative talent within the Northwest culture that some people wouldn't really think of . For instance, we are featuring a local brewing company in our upcoming issue. We hope to show that craft brewing is an art and is extremely creative in its own unique way. We are going to be launching our Kickstarter campaign within the next month, so make sure to watch out for that. You can expect our first issue to come out at the end of this Spring. We will be taking pre-orders through our website once our Kickstarter wraps up. I'm really excited for what the future will bring for The Creative Northwest.
/// You can follow Tyler on Instagram and keep up with the Creative Northwest Magazine project on their blog and Instagram.